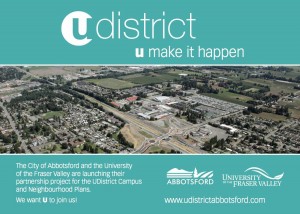 The University of the Fraser Valley and the City of Abbotsford are undertaking a collaborative initiative that will shape the future of the UDistrict — a vibrant, enriched, and inclusive neighbourhood where creative minds live, work, play, and learn together.
In May 2012, Abbotsford City Council officially endorsed a 30-year planning vision for the area adjacent to the UFV campus. Today, UFV and the City have partnered to take that vision to the next level.
With help from residents, students, staff, faculty, and businesses in the area, the project will look beyond the boundaries of the existing campus to develop a university village that embraces the surrounding neighbourhoods. The UDistrict will be a sustainable community in an important and growing region of the Fraser Valley.
On Wednesday, April 8 the year-long planning and consultation phase will be launched. Three events are taking place on the UFV Abbotsford Campus. Please come and hear more about UDistrict and provide your input on the future of this exciting project.
Wednesday, April 8:
11 am: Media Announcement (Abbotsford Centre Front Entrance)
1130 am–2 pm: Campus Kick-Off Event (UFV Campus Green)
4–7 pm: Neighbourhood Kick-Off Event (Abbotsford Centre Front Entrance)
Community consultation on the plan will continue throughout the year.
For more information please contact dave.pinton@ufv.ca