IMPORTANT Message for those using myUFV Course Tools
Blackboard has become UFV's only supported online course management system. This means older courses found in myUFV will no longer be available for faculty or student use as of September 1st, 2015.  Also, faculty will not be able to add content into any future courses in myUFV Course Tools – but will have Blackboard Learn available instead.
Why September?  This is to give you time to retrieve anything from your courses that you would like to save before they are no longer available.
What do you need to do?  If you have documents, notes, etc. in courses found in myUFV, please go to those courses and download them to your computer. Unfortunately there is no easy way to do this and it takes time. We recommend you begin now.
How do I save my course material?
You will need to click on each file you want to save and download it to your computer following the method your browser (Firefox, Internet Explorer, Chrome, etc.) uses..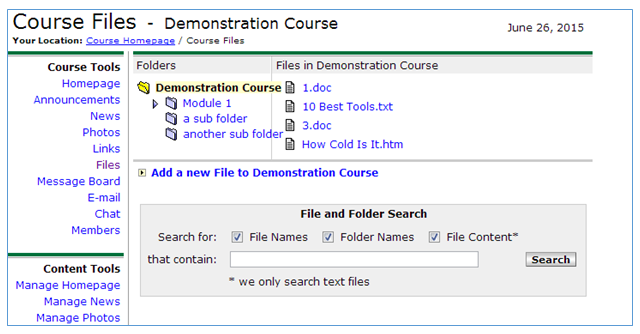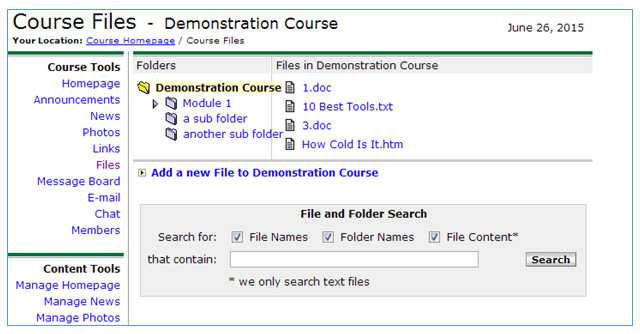 This graphic uses Chrome – when clicked on each file is downloaded automatically and saved in the Downloads folder.


We are encouraging you to save your files now.
Questions about myUFV Course Tools?  Please contact coursetools@ufv.ca
Questions about Blackboard Learn?  Please contact online@ufv.ca
---
What if I need to see a list of the courses I've taken?
Students may access their course history through the Student Records menu in myUFV.
Log into myUFV
Choose Student Information under myUFV Records Services
Choose Student Records
Choose Electronic Academic Record
Questions about myUFV Course Tools? Please contact coursetools@ufv.ca
Questions about Blackboard Learn?  Please contact online@ufv.ca